My Fave Mocktails!
As you know, I don't drink alcohol but that doesn't mean I don't love a delicious beverage!
As the warmer weather is around the corner I thought I'd share with you my favourite summer mocktail recipes!
Enjoy x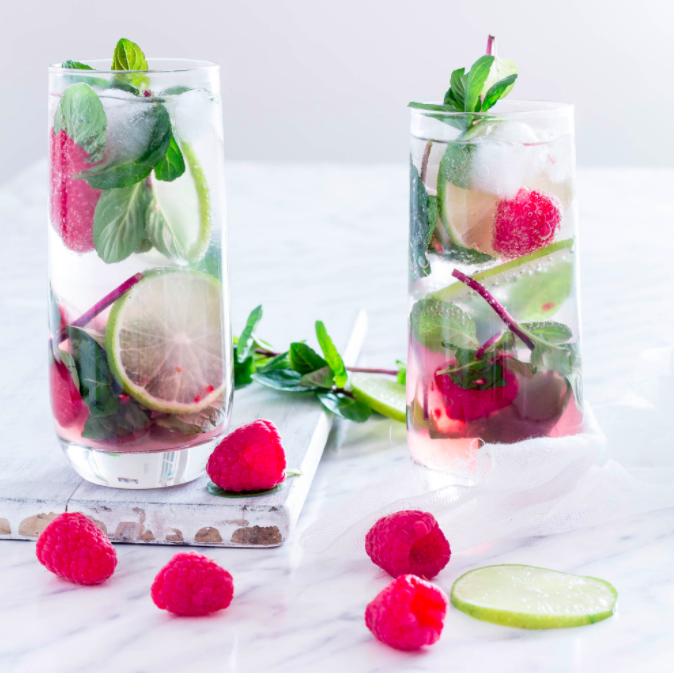 INGREDIENTS
-11 fresh large mint leaves (16 small)
- ¾ lime
- 1½ Cup Sprite OR Soda
- 1 Cup crushed ice
INSTRUCTIONS
Put ¾ cut lime, 11 large mint leaves, and either the Sprite or Soda into a glass.
Using a muddler muddle the ingredients for about a minute.
Pour ice in and shake or mix well.
Garnish with mint and lime and berries of your choice!
Serve immediately.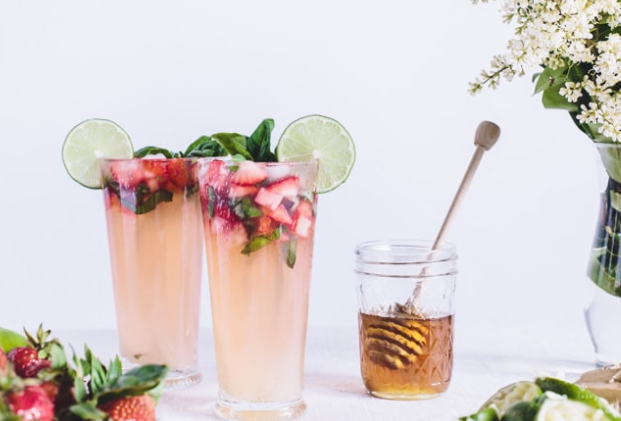 INGREDIENTS

To Make the Honey-Sweetened Simple Syrup;
1 cup honey
1 1/2 cups water
For the Limeade;
12-15 medium size fresh limes plus 1 more as garnish (you need 1 cup of lime juice)
1 cup strawberries, sliced – plus more as garnish
1/4 cup of basil, chopped – plus more as garnish
ice
5-6 cups of water
INSTRUCTIONS

To make the honey-sweetened simple syrup: Place honey and 1 1/2 cups of water in a small saucepan. Cook until honey is completely dissolved. Set aside and let it cool.
Zest 3 limes and place the zest in the saucepan with the dissolved honey.
Squeeze the juices of the limes. You should have at least one cup of lime juice.
To make the limeade: Place the honey mixture and lime juice in a pitcher. Add in sliced strawberries and chopped basil.
Add in 5 cups of cold water and give it a good stir. Place it in the fridge to cool for at least 2 hours.
When ready to serve, pour limeade into glasses filled with ice and garnish with chunks of strawberries and fresh basil leaves.
Grapefruit and Rosemary Spritzer
INGREDIENTS

1/2 cup grapefruit juice
4-6 tbsp rosemary syrup
Crushed Ice
Soda water
Rosemary Syrup
1/4 cup honey
1/4 cup sugar
1/2 cup water
1 sprig of rosemary, chopped

INSTRUCTIONS

To make the syrup, combine all the ingredients in a saucepan and bring to a boil on medium high heat. Cook for 4-5 minutes until the sugar has dissolved. Remove from heat and pass through a sieve to remove the rosemary. Cover and let cool completely.
To assemble the spritzer, pour 1/4 cup grapefruit juice in each glass. Add 2-3 tbsp of rosemary syrup to each glass. Fill the glasses with crushed ice and then top with soda water. Garnish with rosemary and grapefruit slices if desired.
Non Alcoholic Rhubarb Bubbly
INGREDIENTS

1 bottle of white sparkling grape juice
1 ½ cups water
1 bottle of ginger ale

INSTRUCTIONS

Mix together the grape juice, water, and ginger ale in a large punch bowl or pitcher. Serve and enjoy!